Belts:

Please read over the
Ordering Information page
and
Disclaimer Page
before ordering. By ordering you acknowledge that you have read the Ordering Information page and the Disclaimer page and agree with its content.
The payment buttons below are for standard cowhide products only and the handgun model must be one that is posted on the Handgun List page. The payment buttons will also charge you in full. All orders are subject to a 15% cancellation fee. If you prefer to pay the 15% non-refundable deposit up front and be contacted just before we cut leather for the balance please email or phone in your order. Do not send any CC information through email. Georgia residents are subject to sales tax.
If you would like horsehide or exotics please contact us to check availability and place the order.
---
Dual Layer Belts Start at - $100.00

Our belts are made from two strips of premium Hermann Oak leather that is glued together and border stitched. They are approximately 1/4" thick. Buckles are attached to the belt with chicago screws so the buckle can be changed later if desired. I use solid brass buckles. Your choice of brass color or chrome plated. A quality dual layer gun belt offers greater stability and will support the weight of your handgun and other gear much better than a regular belt.

If you would like a different width or length than offered please email or call for availability.

Measuring instructions for your belt size: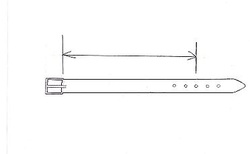 Please follow our instructions for your belt size to insure a proper fit. Belts cannot be exchanged if you make a measurement error. I will make the belt to the measurement you specify. Please measure carefully. Do not use your pant size or another belt makers size.
Email or call if you have questions.

The easiest way to find your belt size is to measure a belt you currently wear. Lay the belt out on a flat surface and measure from where the leather folds around the buckle to the hole that you most often use. Round to the nearest inch. This is your belt measurement. The measurement you give me will be the length from the fold to the center hole of your new belt.

If you plan to carry IWB with your new belt then you may want to take this into consideration when measuring for your belt size. You may be able to order your normal belt size and then simply loosen your belt a notch or two to carry IWB. If you plan to carry IWB exclusively with your new belt you could also measure from the fold to the hole you use with your IWB gear in place. Another option would be to choose a size in between your normal size and the size you need for IWB. This will be up to you to decide what will best work for your needs.

---
---
Rifle Slings:
Below are a few photos of cobra style rifle slings we have made. The sling can be adjusted from approx. 30" to 42" and can be made to fit 1" or 1 1/4" swivels. The top shoulder portion of the sling is suede lined and padded for grip and comfort. It is made from 7 - 8 oz. Hermann Oak leather with a 2 - 3 oz. suede lining and the padding is glued and stitched between the layers. The bottom strap portion of the sling is made from 9 - 10 oz. Hermann Oak leather. The price for a standard plain cowhide rifle sling with suede lining and padding (shown in the first four photos) is $90. The color of the suede lining can vary depending on what I have in stock but I usually try to keep two or three common colors available. The stamping and tooling on the examples below were done by Kay and this is offered at an additional cost. The price would depend on what you want stamped or tooled on the sling.
Please email or call for a quote or to discuss options if interested.

---
Below is a photo of a plain rifle sling. This is basically just a simple 9 - 10 oz. leather strap. It has a few adjustment holes on each end and a Chicago screw for the loop closure. These are made with enough adjustment that they should fit most people but if you need a specific size you can contact us. These can be ordered to fit 1" or 1 1/4" swivels. Price $30