In Stock and Ready to Ship:

Please read over the
Ordering Information page
and
Disclaimer Page
before ordering. By ordering you acknowledge that you have read the Ordering Information page and the Disclaimer page and agree with its content.
Most of the in stock items will be new but Occasionally there may be a cosmetic second or slightly used item in stock. These items will be marked and priced accordingly.
In stock items will be sold on a first come first serve basis and cannot be ordered through the website. You must order by phone or email and the first clear " I want it " or " I'll take it " will get it.
Prices below do not include shipping or sales tax. If you are in GA 7% sales tax will apply.
Shipping prices are determined by value and can be viewed on the
shipping page
.
---
A full description of each holster model can be found under products on the holster pages.

In Stock items
_
---

Knife Strops


If we do not have one of these in stock we can generally have one ready to ship within a few business days. They consist of leather mounted onto a wooden block and are handy for touching up the edge of your knife after each use or for putting the final polish on the edge. We offer a small strop (approximately 8" x 3/4" x 1 1/2" with 6 1/2" stropping surface) for $10 and a large strop (approximately 12" x 3/4" x 2 1/2" with 10 1/2" stropping surface) for $15. We can also add a layer of leather to the second side for $5 extra for the large and $2.50 extra for the small. The small strop would work well for smaller knives or folding knives and could easily be carried in a pack. The large would work great for larger knives or as a bench strop. I use Verita's honing compound on my personal strops which can be seen on the small strop in the photo. I have been using it for several years on my knives and leather tools and it works very well. I can leave the strop untreated for you to use your own compound or I can treat it with Verita's at no extra charge if you plan to use this brand on your strop. The strops will also work without any honing compound however the compound does speed things up.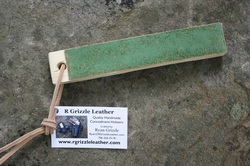 New Small Knife Strop - Approximately 8" x 3/4" x 1 1/2". The leather stropping surface is approximately 6 1/2" long and is treated Verita's honing compound. $10 single side and $12.50 for double sided

---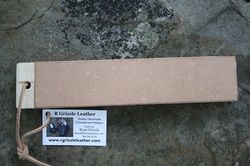 New Large Knife Strop - Approximately 12" x 3/4" x 2 1/2". The leather stropping surface is approximately 10 1/2". I can treat it with Verita's honing compound at no extra charge. $15 for single side and $20 for double sided

---
---
Leather Drink Coasters
Below are a couple of photos of Leather Drink Coasters we now offer. They are made from natural 7 - 8 oz. leather with a layer of cork mated to the top. They come with one initial stamped in the center, your choice. These come in sets of 4 for $16. Our plan is to keep these in stock and then stamp the letter when ordered so they can ship pretty quickly. In the event they are marked sold or out of stock we should be able to have them ready to go within 3 to 4 business days.